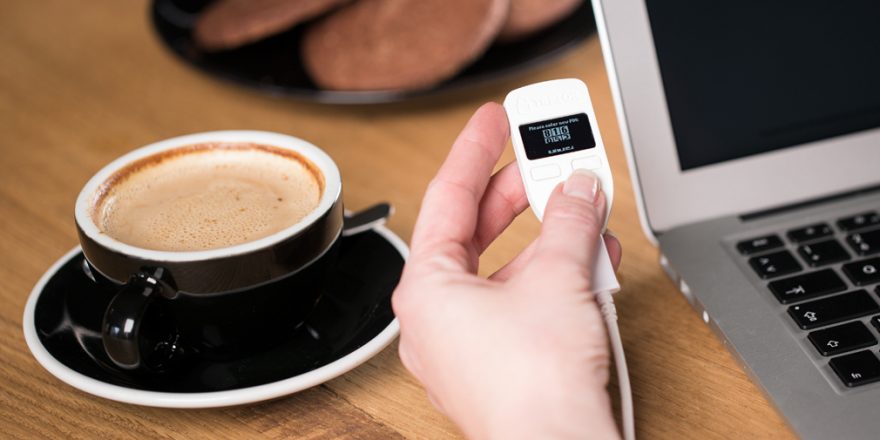 The Trezor hardware wallet from SatoshiLabs was the first device designed to protect your bitcoin
. It is a small USB enabled device that protects your private keys in a secure enclave. You can access your digital assets using a PIN and a browser based application. It also allows for backups through an industry standard seed key.
Who Should Use Trezor Wallets?
The Trezor wallet is a hardware device that you must
purchase
. For this reason it doesn't make sense for someone getting their first $20 of cryptocurrency. Long term holders and those with larger balances will likely benefit the most from a Trezor. Yet there is some extra functionality that could make it interesting for others as well. The Trezor also supports GPG encryption signing, two factor authentication and password management. So it can even provide security benefits to those with minimal or no cryptocurrency.
Trezor Wallet Features
Send & Receive Cryptocurrencies

Offline Secure Element stores keys

Pin Protection and auto-delete option

Can use third party companion apps

Secure Dual Chip Architecture
Trezor Wallet – Supported Currencies
Ethereum ERC20 Tokens (Via MyEtherWallet)
Hardware Details
CPU: 120 MHz embedded ARM Processor (Cortex M3)

Screen: Bright OLED – 128×64

Size: 60mm c 3mm x 6mm (2.4 x 1.2 x 0.2 in)

Operating Temperature: -20°C to +60°C (-4°F – +140°F)

Connection: Micro USB to Desktop or Mobile

Supported Operating Systems: Windows, Linux, macOS, Android

Certified: CE and RoHS Certified (Quality, Realiability and Environmental Standards)
Node Type: Companion App Dependent
You can use the Trezor wallet with the official app or a third party companion app. The official companion app is a light client but there is no reason you can't pair it with a full node. One way to do this currently is via the third party Electrum wallet. There are many compatible wallets already including; ArcBit, Copay, Electrum, Etherwall, Mycelium, and Sentinel.
Wallet Code License: Open Source(-ish) Software
The Trezor platform uses the Microsoft Reference Source License. This means that the code is open and available for independent developers to review. But the code itself can not be
freely
copied and used to build derivative products. This restricts third party developers but allows for audits by security conscious users.
Security Advisories
In 2017 there were two potential risks identified with the secure element used to build this wallet
.
These risks could lead to others being able to access controlled information with physical access to the device
.
Trezor responded to both of these issues and claim that even though the underlying bugs still exist, they have removed the risk
. Due to the fact this appears to be a software based fix, some caution is still advised.
Community
There is an active development community around the Trezor device. You can learn more and connect at the following locations.
How to Buy
The price is currently set to €48.76 for version 1. You can buy it from the official store or through Easy Crypto within New Zealand . We recommend taking extra care when buying security devices and not purchasing second-hand. This lowers the risk that they can get hacked or tampered with after sale.
Note: Trezor T, is the newest model which launched in 2018 with support for 8 cryptocurrencies and a touchscreen interface.