Learning the basics of Cryptocurrencies before getting involved is one thing. But when you are ready to get started you are immediately faced with another challenge; Deciding which cryptocurrency wallet to actually use for safely storing it?
Selecting a safe cryptocurrency wallet is an important step. There are hundreds of cryptocurrency wallets on the market but they are not all equal. Not to mention your security requirements are probably different for storing $10 compared to $100,000!
To help you decide which type of cryptowallet is appropriate for your situation, we've created a flowchart that guides you through some of the key questions and considerations that will affect your choice of wallet. You'll also find example wallets and companies based on each choice.
One important point to remember is that the features of most wallets are subject to change and there are new companies popping up all the time. Understanding why you are making certain choices can be just as important as eventually choosing a specific wallet.
So without further ado…
The Cryptocurrency Wallet Flowchart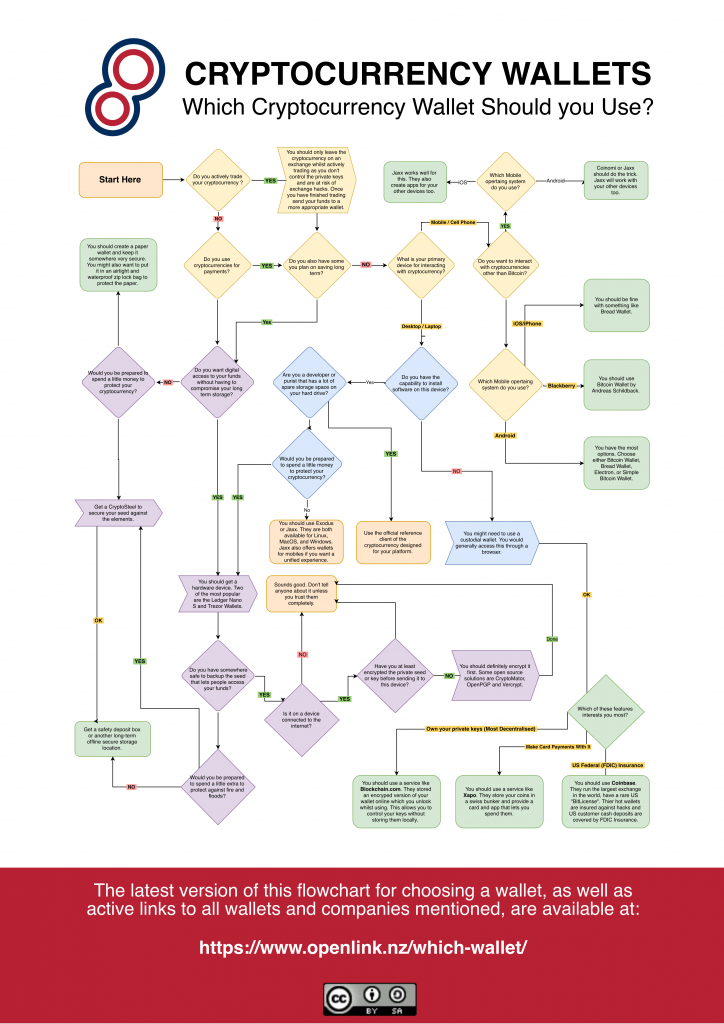 Tap here to download a high quality PDF of this guide.
Links To The Cryptocurrency Wallets & Tools
Custodial Wallets
Cold Storage Wallets
Desktop Wallets
Mobile Native Wallets
Hardware Wallets
Other Tools
Embed This Flowchart on Your Own Site: